HOME /
MONASTERIES AND TEMPLE TOURS
For centuries, Arunachal has been the land of Buddhists. Tawang Monastery is one of the largest lamaseries of the Mahayana sect of Buddhism and the second oldest monastery in the world after Lhasa. The monastery houses over 500 monks. It is also a centre of Buddhist Cultural Studies. The monastery was founded by monk Mera Lama Lodre Gyatso, a contemporary of the fifth Dalai Lama in 17th century AD. The monastery complex comprises of more than 65 residential buildings meant for monks.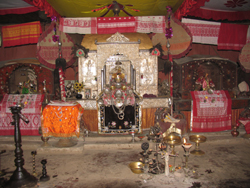 Urgelling Monastery is the birthplace of His Holi Highness the sixth Dalai Lama and is located about five kilometers to the south of Tawang town. Urgelling serves as home to the Buddhist monks and Lamas, who are the followers of Lamaistic Mahayana school of thought and principal. In 1683 the birth of the sixth Dalai Lama Ngawang Gyamtso to the Lama Tashi Tenzin (father) of Urgelling and Tsewang Lhamo (mother) of Bekhar, made the monastery a sacred place for the followers of Buddhism.

In modern Assam, Buddhism survives in its Theravada form, mainly due to the presence of communities like the Tai (Phake, AIton, Khamyang and Turunng), Singphos, Khamti, Chakmas and the Chittagong Baruas. Interestingly, all these communities are very small and migrated to Assam from various Southeast Asian countries in and around the 18th century; they are often considered endangered and they preserve their cultures staunchly.

The Theravada traditions they follow are ancient and as a community are considered the most peace-loving in India. Theravada Buddhist Vihars are dotted across Assam, especially in the Tinsukia and Dibrugarh districts of Assam. These shiny, clean and peaceful Vihars showcase the traditions and cultures of some of the most exotic but endangered communities of Southeast Asia.

Assam has a history dating back to the Vedic age. Both Tantric Shaktism (Kamakhya Temple in Guwahati) and Vaishnavism (in Majuli) flourished in the valley of Brahmaputra. In the wake of Mohammedan invasions, came the Muslims, many of whom stayed back and assimilated into the mosaic of cultures that is Assam. A handful of Sikhs mercenaries from Punjab also came to this land and helped Sikhism flourish here as well.