HOME /
MONASTERIES AND TEMPLE TOURS
The North East state of Manipur was a key battleground during the Second World War. A quiet corner of the Raj until then, it suddenly found itself on the frontier between the Japanese in Burma (now Myanmar) and the British in India. It turned into a massive battlefield in 1944 when the Japanese, together with Indian National Army (INA) units, launched Operation U Go, with the main objective of capturing Imphal, Manipur's capital. The period from March to July of that year saw fierce fighting across the state in what is called the Battle of Imphal.

Visit to the paddy fields which was the battlefield, the British War Cemetery, the Japanese War Memorial, the INA Memorial Complex and the War Museum will make one ponder from the Japanese, British and Indian perspectives. Involved in the Battle of Imphal were more than 120,000 men of the British Army, 70,000 men of the Japanese Army and over 7,000 men from the INA's 1st Division. This included the Gandhi and Azad Brigades, part of the Subhash Brigade, as well as INA Special Groups attached to the Japanese Divisions.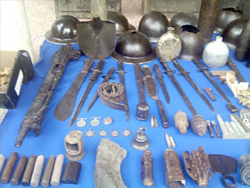 The Battle of Imphal, which completed 70 years in 2014, and the Battle of Kohima, were voted Britain's Greatest Battles in a contest run by Britain's National Army Museum. The forgotten war and the forgotten soldiers from India, UK and Japan were commemorated in 2014 to highlight the importance of these remarkable battles and making a small step towards reconciliation and restoration of world peace.

We have good guides-cum-stewards who will bring those days to life and you will be able to visualize soldiers in bunkers with rifles and bayonets and planes strafing with bombs and machine guns.