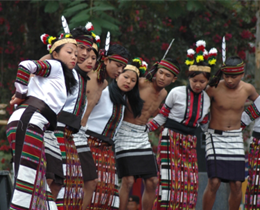 MIZORAM

Songbird of the North East: Sociable, hospitable and fun-loving – the Mizos are supposed to be one of the finest choir singers in the North East. Living in the heart of nature, being woken up by bird song reflects their great affinity to the most attractive features of the land in which they live. Clinging to their identity and culture despite external influences, Mizos have ensured that it continues th thrive with unabated vigour.

Tlawmngaihna is the code of ethics that guides the Mizos – it means everyone should be unselfish, hospitable and helpful to each other. The joyous movements of their dances and the spirited songs are a deep reflection of their passion for this cultural heritage. It is evident in the rich variety of their colourful costumes. Mizoram's craft such as those in bamboo and cane are ingeniously varied to meet modern needs – but remain rooted to its tradition.

Mizoram has 10 important dances that celebrate life in all its richness with a delightful joie de vivre that is so integral to the Mizos ethos. Amongst them are Cheraw, Chai Lam, Solakia, Sarlamki, Khullam, Chawng-laizawn and Tlanglam. It's most important festivals, inspired by its agricultural activities, are Chapchar Kut, Mim Kut and Pawl Kut. These are accompanied by a rich repertoire of singing and dancing amidst lavish feasts.

Aizawl – Mizoram's capital, not many people are even aware that the Tropic Of Cancer passes through Aizawl. It gives this first city of Mizoram, an exotic twist. Citadel-like it stands upon its lofty perch (4000 ft) on a ridge overlooking the lush Tlawng River valley. To its north lies the rugged hills of Durtlang where there's an interesting zoological garden. Explore the museum, which stocks interesting collection of costumes, artifacts and historical relics that are an important window to Mizo culture. Collections of traditional crafts and woven textiles such as puan with its intricate weave in many colours, at Bara Bazar, the main market. It also stocks an inventive range of baskets and cane and bamboo items.

Jewish Connection: For the Mizo-Kukis of Mizoram and Manipur, Israel is believed to be the Promised Land, adding another chapter to the incredible story linking the Zionist state with these tiny Himalayan Indian States bordering Myanmar.

They call themselves the Bnei Menashe, descendants of Menashe, one of the Ten Lost Tribes of Israel. In Jewish folklore, 10 of the 12 tribes of Israel are scattered all over the earth.

Indian Jews are a religious minority of India. Judaism was one of the first non-Dharmic religions to arrive in India in recorded history. The better-established ancient communities have assimilated a large number of local traditions through cultural diffusion. The Jewish population in India is hard to estimate since each Jewish community is distinct with different origins; some arrived during the time of the Kingdom of Judah, others are seen by some as descendants of Israel's Ten Lost Tribes. Of the total Jewish population in India, about half live in Manipur and Mizoram and a quarter live in the city of Mumbai. Unlike many parts of the world, Jews have historically lived in India without anti-Semitism from Indians (though they were victims of anti-Semitism by the Portuguese and their Inquisition during their colonial rule in Goa). Jews have held important positions under Indian princes in the past and even after independence from British Rule, have risen to very high positions in government, military and industry.

In addition to Jewish expatriates and recent immigrants, there are five native Jewish communities in India :
1. The Cochin Jews arrived in India 2,500 years ago and settled down in Cochin, Kerala, as traders.

2. The Bene Israel arrived in the state of Maharashtra 2,100 years ago.

3. The Baghdadi Jews arrived in the city Mumbai from Iraq, Iran, and Afghanistan, and Arab countries about 250 years ago.

4. The Bnei Menashe is Mizo and Kuki tribesmen in Manipur and Mizoram who claim descent from the tribe of Menasseh.

5. The Bene Ephraim (also called "Telugu Jews") is a small group who speak Telegu; their observance of Judaism dates to1981.

The phrase Ten Lost Tribes of Israel refers to the ancient Tribes of Israel that disappeared from the Biblical account after the Kingdom of Israel was destroyed, enslaved and exiled by ancient Assyria. Many groups of Jews have doctrines concerning the continued hidden existence or future public return of these tribes. This is a subject that is partially based upon authenticated and documented historical fact, partially upon written religious tradition and partially upon speculation. There is a vast amount of literature on the Lost Tribes and no specific source can be relied upon for a complete answer.

The North-East's Jewish connection began when in 1951, a minister of the Pentecostal Church identified as Tehalah claimed to have had a vision that they were descendents of the lost tribes of Israel. Thus started research into the Jewish connection of the Mizo-Kukis. They found it in several tribal religious rituals, customs and practices, and particularly the legend that they are the children of Manmaseh and in a song which they claimed referred to Biblical historical events such as fleeing of the Israelites from captivity in Egypt with Moses and crossing the Red Sea. The researchers wrote to

The Knesset with no result, but the believers decided to "return to theirJudaic religion". They built synagogues and followed the Jewish rituals and teachings and have been living according to the Jewish Law.