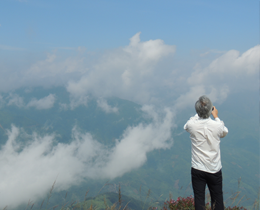 MEGHALAYA (NO SPECIAL PERMISSION REQUIRED)

The state of Meghalaya derived its name from the beautiful description detailed by the great educationist Suniti Kumar Chatterjee of Calcutta University in his research paper about the cloud-clad hills around Shillong. Dr. Chatterjee mentioned the place as 'Meghalaya' and truly the definition conjures up thoughts of high hills crested with clouds. So, it is. The abode of clouds. The meaning is 'abode of cloud', on the analogy of Himalaya, 'abode of snow'. The name 'Meghalaya' derives from Sankrit word megh (cloud) and alaya (home).

Carved out of the former state of Assam, Meghalaya is one of the seven sister states of the North Eastern Region, bordered by Assam in the north and Bangladesh in the south. Meghalaya is divided into five administrative districts of the Jaintia hills, East and West Garo hills and East and West Khasi hills.
Meghalaya experiences the two seasons, of winter and monsoon, and is characterized by a cool climate throughout the year. The Cherrapunjee-Mawsynram belt in the southern slopes of Khasi Hills records the heaviest rainfall in the world. Numerous rivers flow through Megahalaya, although none of them are navigable, due to rocky beds and strong currents.

Predominantly tribal, the original inhabitants of this state are Khasis, Jaintias and Garos. Khasis and Jaintias trace their ancestry to the Mongolian race, while the Garos belong to the Tibeto-Burman race. Their cultural trails and ethnic origins remain distinctive, mainly due to their geographical isolation. The Khasi language spoken here is believed to be one of the few surviving dialects of the Mon-Khmer family of languages, in India.

A common cultural tradition of all the tribes of Meghalaya is the matrilineal law of inheritance by which, custody to property and succession of family position runs through the female line, passing from the mother to the younger daughter, instead of the male line as is common elsewhere in the country.

Agriculture is the main occupation of Meghalaya, with eighty three percent of the total population, dependent on it for their livelihood. Rice and maize are the major food crops.

Important fruits grown here are pineapple, orange, lemon, guava, jackfruit and bananas, while potato, jute, cotton, ginger, turmeric, betel leaf and black pepper are the chief commercial crops.

SHILLONG (Season: Throughout the year)
Road connectivity: National Highway 40, on all-weather road, connects Shillong with Guwahati

Burra Bazar: Burra Bazar or Idew Market (closed on Sundays), one of the most interesting markets one can see over here. For hours one can explore the different levels and myriad alleys with shops displaying mind-boggling items. To visit this market one has to walk for at least 1 kilometer as traffic in this area always remain near standstill. Walk along narrow lanes and squeeze past porters bent double under sacks of potatoes. Khasi women wearing traditional Jain Kyrshahs - an apron of chequered material worn slantwise from one shoulder over a blouse and skirt manage all the shops.

Archery Stakes: A unique sport of Shillong is Archery Stakes. Archery stakes - a gambling sport which is held everyday (except Sundays) at 4.00 PM where some 60 odd archers assemble in a small field surrounded by ticket selling booths and small shops selling liquor. At 4.15 PM, the archers begin shooting at a target where they shoot more than thousand arrows in the next four minutes. The archers, ranging in age from boys of twelve to men of seventy plus, hunker down their hunches in a line, 15 yards away from the target. At the signal the air is thick with the "whop" of arrows whizzing like meteors across the field. The officials then count the numbers of arrows that hit the target. The target is a cylindrical reed drum about twenty inches high, mounted on a short bamboo pole. The last two numbers after counting is the winning lottery number. Information is passed across Meghalaya. 980 arrows on target means 80 is the winning number. The Meghalaya Government legalized the archery lottery game in 1982, but according to the local people the game is running for over 100 years.

THE SACRED GROVE, Mawphlang
The tribal communities of Meghalaya in northeast India, the Khasi, Garo, and the Jaintia have a tradition of environmental conservation based on various religious beliefs, which have been passed on from one generation to the other. Based on these beliefs, certain patches of forests are designated as sacred groves under customary law and are protected from any product extraction by the community.
Such forests are very rich in biological diversity and harbor many endangered plant species including rare herbs and medicinal plants. The sacred-groves, which have been preserved since time immemorial, are in sharp contrast to their surrounding grasslands. These groves are generally rimmed by a dense growth of Castanopsis kurzii trees, forming a protective hedge, which halts intrusion of Pinus kasia (Khasi pine), which dominates all areas outside the sacred groves. Inside the outer rim, the sacred groves are virtually Nature's Own Museum. The heavily covered grounds have a thick cushion of humus accumulated over the centuries. The trees in every sacred grove are heavily loaded with epiphytic growth of aroids, pipers, ferns, fern-allies and orchids. The humus-covered grounds likewise harbour myriad varieties of plant life, many of which are found nowhere else. One of the most celebrated sacred-groves of the State is the grove at Mawphlang about 25 kilometers off Shillong. This particular grove has for long years been a reservoir of interest for eminent and internationally known botanists. The sacred-groves, which make a unique contribution to the flora and avi-fauna of the State, are undoubtedly of immense interest to all naturalists.

Cherrapunjee (1300 m) and its surroundings areas are blessed with many breathtaking views of nature in her pristine beauty with cool springs, mind soothing waves of thick green jungle foliage, gurgling mountain streams finding their way through rocks, enthralling milky white waterfalls leaping into deep gorges in a thunderous applause to the record-breaking rainfall that resounds through the valley. The pregnant monsoon clouds embrace and kiss the mountains as they swept across the plains of Bangladesh from the Bay of Bengal and are coaxed to shed their moisture to drench the mountains in a deluge to provide home to one of the most bio-diversity rich vegetation in the world. During the monsoon months it is a thrill to catch sight of nature in the prime of her beauty when the clouds lift their mantle over her for fleeting moments. Cherrapunjee has the distinction of being the wettest place on Earth, having the highest recorded rainfall, year after year. The Caves of Cherrapunjee, Mawsmai and Mawmluh, are the longest

Limestone caves in India, formed over 3500 years, a must go destination for cavers and adventurisms.

Iew-Sohra – Market Day at Cherrapunjee
The magic of market day at Sohra / Cherrapunjee is something to be experienced by the discerning tourist. It is not just a market place to buy and sell the produce / things alone but it is a socializing event. There are two types of markets – 'Iewbah' meaning Big Market and 'Iewrit' meaning small market.

Iewbah is held once in eight days. If this market day (Iewbah) falls on a Monday, the next 'Iewbah' will be on Tuesday. The advent of Christianity has brought some modifications to this rule. To enable people to devote Sunday to attend church services they pre-pone all Big Market days falling on Sunday to the preceding Saturday. However, these days you do see a few vendors turning up on Sunday – other than the ones who keep their shops open on all days of the week. The small market day i.e. 'Iewrit' is held on the 4th day from Iewbah.

When you come to Cherrapunjee try to manage your stay to fall around one of these Big Market days. You can see Cherrapunjee come alive on Iewbah with the Bazaar buses disgorging loads of people from all the surrounding villages. People of Sohra especially those having regular shops and those who vend on market days are all primed for a busy action filled day.

The Syiem of Sohra (King / Chieftain) has a toll tax collected from every vendor for the upkeep of the market place. The 'Ambassador' Taxies ordinarily meant to accommodate 6 people including the driver have people packed like sardines up to 12 or even more. The drivers have half their bum on the seat and manage to drive squeezing themselves between their door and their 'kwai' chewing fare. ('Kwai' is a combination of betel leaf, supari / areca nut / betel nut, lime and often times a pinch of tobacco.) . Sometimes 2 or 3 persons manage to sit in the boot with the lid up.

The market has different departments for meat – pork, beef, fish, dry fish, chicken, vegetables, fruits, bamboo baskets, iron implements for agriculture, construction work and home uses, beaten rice, bakery products, spices, tobacco, textiles, ready made garments and furniture. When the sky opens up in torrents which often is the case during the monsoon months, the milling crowd from Sohra town and the villages all around can be seen scurrying around with the traditional rain shield 'kunup', all types of umbrellas of different colours and also wrapped up in colourful plastic sheets.

The area around the market place is choked with buses and taxis moving at snails pace plying people to and fro the market place. Sometimes you can get caught up in the traffic for the better part of half an hour during the peak hours. There seems to be no progressive effort taken for easing the traffic congestion and for the scientific management of the flow of traffic on market days by providing easy exit without clogging the only entry point. These days there is a person directing the traffic and helping to ease the traffic jams around the market place.

Market day in Sohra is the day when all the Government Offices and Extension Services have full attendance of their staff. People having work at these offices can often times meet the office people only on market days. The system of keeping the offices manned throughout the week by a couple of staff with nobody losing attendance is an art perfected in all these offices. The casualty, of course, is the involvement and commitment of these educated elite for the development of these backward places and their underprivileged brethren who are in need of help to better their lot. Most of them contribute to the earnings of the Sumo Shuttle Taxi operators by retracting to their hearths in Shillong on those days they grace their office with their presence. No one has any qualms about accepting the full pay packet at the end of the month. So one can understand the slow pace of development of this area despite government initiatives through its various arms.

Market day also finds the Civil Hospital and the private clinics of medical practitioners filled with patients – pregnant women, mothers with babies, young and old and those who are cutting short their life span with their passionate liking for the local brew 'ka kiat' - hailing from all the surrounding villages. It is a busy day for everyone including the medical personnel, much in contrast to other weekdays.

By evening kerosene lamp stands called 'dongmusa' – originally made of cut bamboo with kerosene in the cavity and cotton rags as wicks but now metal replicas replacing some – are propped up around the market place for the late buyers and bargain seekers. The day draws to a close around 7 p.m. for the buyers, vendors, taxi and bus drivers, helpers, porters and shopkeepers. The major buying crowd would have dissipated by 5 p.m.. For many, a sip of the locally brewed rice beer or Indian made foreign liquor (rum/whiskies/vodka/gin) caps another hectic market day.

Main Market Days at Cherrapunjee (Iewbah, Sohra)
January

February

March

2nd January
Saturday
3rd February
Wednesday
5th March
Saturday
9th January
Saturday
11th February
Thursday
14th March
Monday
18th January
Monday
19th February
Friday
22nd March
Tuesday
26th January
Tuesday
27th February
Saturday
30th March
Wednesday
April

May

June

7th April
Thursday
9th May
Monday
2nd June
Thursday
15th April
Friday
17th May
Tuesday
10th June
Friday
23rd April
Saturday
25th May
Wednesday
18th June
Saturday
30th April
Saturday
25th June
Saturday
July

August

September

4th July
Monday
5th  August
Friday
6th October
Tuesday
12th July
Tuesday
13th August
Saturday
14th October
Wednesday
20th July
Wednesday
20th August
Saturday
22nd October
Thursday
28th July
Thursday
29th August
Monday
30th October
Friday
October

November

December

8th October
Saturday
1st November
Tuesday
3rd December
Saturday
15th October
Saturday
9th November
Wednesday
10th December
Saturday
24th October
Monday
17th November
Thursday
19th December
Monday
25th November
Friday
27th December
Tuesday
January

February

March

4th January
Wednesday
4th February
Saturday
1st March
Wednesday
12th January
Thursday
13th February
Monday
9th March
Thursday
20th January
Friday
21th February
Tuesday
17th March
Friday
28th January
Saturday
25th March
Saturday
April

May

June

1st April
Saturday
4th May
Thursday
5th June
Monday
10th April
Monday
12th May
Friday
13th June
Friday
18th April
Tuesday
20th May
Saturday
21st June
Wednesday
26th April
Wednesday
27th May
Saturday
29th June
Thursday
July

August

September

4th July
Friday
8th August
Tuesday
1st  September
Friday
15th July
Saturday
16th August
06th December
9th September
Saturday
22nd July
Saturday
24th August
Thursday
16th September
Saturday
31st July
Monday
25th September
Monday
October

November

December

3rd October
Tuesday
4th November
Saturday
6th December
Wednesday
11th October
Wednesday
11th November
Saturday
14th December
Thursday
19th October
Thursday
20th November
Monday
22nd December
Friday
27th October
Friday
28th November
Tuesday
30th December
Saturday
LIVING ROOT BRIDGE, near Cherrapunjee
The lower reaches of the southern slopes of the Khasi and Jaintia Hills are humid and warm and are streaked by swift flowing rivers and mountain streams. A species of rubber tree flourishes alongside these rivers and steams. The tree usually perches on rocks and reaching out to soil for nourishment. Thus, they have adapted themselves well to high soil erosion, caused by these fast flowing rivers and streams. The exposed roots grow strong and reach out over long distance from the tree trunk. The early War-Khasis had noticed these qualities of these trees and had adapted it to serve their need for bridges to cross-rivers and streams. In order to direct the roots in the desired direction, they use hollowed out areca nut tree trunks. The thin and long tender roots are then passed through the hollowed out areca nut tree trunks, which are positioned as per the requirement of the proposed bridge. The roots start growing towards the directed end. When they reach the other end of the stream or river they are allowed to take root in the soil. Where required, the roots are redirected back to the side of the river or streams where the tree stands. The bridges usually have base spans numbering more than two. There are also two protective railing spans. Stones are used to fill any gaps in the base span roots. Some of these bridges have roots brought down from the tree branches joining the middle of the bridge from the top as support spans. These root bridges are so strong that some of them can carry 50 or more people at a time. These bridges probably take 20 to 25 years to become fully functional. They keep growing in strength by the day. Perhaps their life span is 200 to 300 years after the bridges are well formed. These bridges are eloquent testimonies of man living in harmony with nature. A unique Double Decker Root Bridge in the vicinity has one deck 70 feet long and another 56 feet long. This must be the only one of its kind in the entire world.

Cherrapunjee Holiday Resort: Only place to stay at Cherrapunjee is at Mr. Denis P. Rayen's Cherrapunjee Holiday Resort – family run nature resort. Mr. Denis P Rayen from Tamil Nadu marrying Mary Carmela Shati is the man responsible for changing the economy of Cherrapunjee (Sohra). Cherrapunjee did not have a place where tourists could stay for night, except for excursion from Shillong.
To visit Living Root Bridges one has to stay at Cherrapunjee Holiday Resort.

MAWLYNNONG
Mawlynnong village, situated 90 kms ahead of Shillong, on the Shillong-Dawki Road, 30 kms from Pynursla, is a village of 75 households with a population of 400. An idyllic location, this village epitomizes a standard, which all other villages need to aspire to be. Dubbed the cleanest village in India by Discover India Magazine, the primary Village School till class V boasts of its no dropout record and the village of 90 % literacy. Paved walkways and beautiful flowerbed all along mark the village, with waterfalls, a living root bridge, hilly rivulets, acacia plantation and an excellent view of the faraway plains of Bangladesh all contribute to the ambience of this village. Farming of betel nut & leaves, broomsticks and pepper along with bee rearing are the primary economic activity of this Village and with the village headman himself taking the responsibility of making visitors comfortable, a day in this village gives an insight into the life of the Khasis, the influence of the Church and its metamorphosis.